This morning I was fortunate enough to catch up with my favourite cricket-loving RNZ host, Nathan Rarare, to chat about the Blackcaps' prospects ahead of the World Test Championship Final versus India, starting tomorrow in the UK.
https://www.rnz.co.nz/national/programmes/first-up/audio/2018800098/cricket-statistician-on-how-rain-will-affect-nz-vs-india-test
PREVIEW: The Blackcaps will be hoping for third time lucky in a finals match ahead of their clash with India in the World Test Championship final, which gets underway in Southampton tomorrow in the UK. New Zealand undoubtedly come into the match as the more prepared of the two sides, fresh off a 1-0 series win against England, in England. The Kiwi squad of recent years has already been touted as the best Test outfit New Zealand has ever seen and a win here would go a long way in solidifying this claim. However, while the Indians haven't played any Test cricket since March, it would be foolish to write off the side that convincingly put Australia to the sword in their own backyard earlier in the year. Rightly so, India have held the #1 Test ranking spot for a significant portion of recent history and many pundits will have them as favourites to take out the inaugural World Test Championship.
On the eve of such a momentus occassion, it seems appropriate to turn to the various models I have developed over the years to provide a prediction of what might unfold over the next five days. India fans look away…the results may surprise you!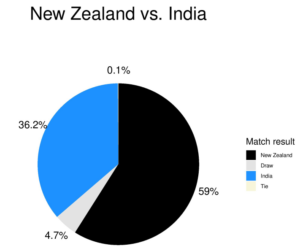 The above results are based on 1,000 simulated matches from the custom built Test match simulation engine I built as part of my past research. The engine is written using the programming language R and takes into account a range of factors, including estimated batting and bowling abilities for individual players, as well as effects relating to historical player performances at home and away venues. Predicted performances for the match can be seen in the below table based on the likely playing XIs, but note these lineups are subject to change.
Predicted batting and bowling performances for the New Zealand vs. India WTC final. Results are based on 1,000 simulated matches.
New Zealand
Simulated match
batting average
Simulated match
bowling average
India
Simulated match
batting average
Simulated match
bowling average
Tom Latham
31.2
Rohit Sharma
35.9
Devon Conway
37.4*
Shubman Gill
23.4*
Kane Williamson
44.2
43.3
Cheteshwar Pujara
31.3
Ross Taylor
34.3
Virat Kohli
40.8
Henry Nicholls
34.4
Anjinkya Rahene
26.7
BJ Watling
27.0
Rishabh Pant
37.5
Colin de Grandhomme
27.5
30.9
Ravindra Jadeja
28.2
29.8
Kyle Jamieson
33.9*
18.6*
Ravi Ashwin
19.8
29.6
Tim Southee
14.2
26.3
Mohammed Siraj
11.8*
31.2*
Neil Wagner
11.4
23.5
Ishant Sharma
5.7
33.9
Trent Boult
12.6
26.9
Jasprit Bumrah
2.5*
27.6*
It's fair to say that the sides look evenly matched on the batting front, but New Zealand may have a slight edge in the bowling department. A crucial factor worth noting is that two of India's key bowlers, spinners Jadeja and Ashwin, have inflated bowling averages when playing outside of India. Their performances in these foreign conditions could be what decides the result of this match. It is worth pointing out that several of these predictions are flagged as being relatively uncertain (*), given the lack of Test match data at both home and away venues that is available for several players. Of particular note in this regard is Kyle Jamieson, who has enjoyed a dream start to his Test career — the model is predicting his match performance won't quite live up to his current career batting and bowling averages of 47.0 and 15.2 respectively — but I imagine the big Kiwi fast bowler would still be happy with the performance predicted for him here. Conversely, I believe Indian quick Jasprit Bumrah is the man to watch from the Indian side and I would not be surprised to see him outperform the predictions we see here.
On the whole, these two teams match up relatively evenly, which should make for a gripping contest over the coming week. A main point of focus will be how quickly the Indians can adapt to the English conditions after arriving in the country just over a week ago. Can the Blackcaps right the wrongs of their past two World Cup finals defeats? Or will the Indians pull off another overseas thriller, just as they have done in years gone by?